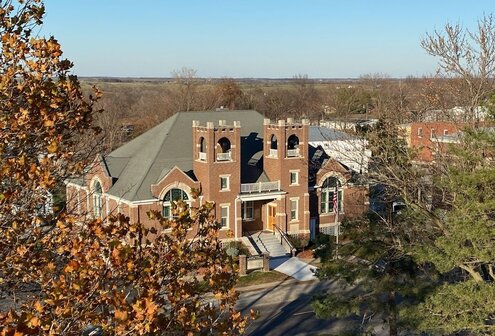 WHERE WE MEET
We are located at 212 West Washington Street in Lancaster, Missouri, where we've been gathering since 1914. (The congregation first organized in 1847!)
We'll be there to greet you as you walk in, and show you where the coffee is!
WHEN WE MEET
On Sunday mornings join us for coffee in the southeast corner by the window.
Our worship service starts at 10:00 a.m. and ends around 11:15 a.m. We have an actual church bell, and yes, we ring it every Sunday.
Jesus And Me (J.A.M.), for kids ages 5 to 13, meets most Wednesday nights during the school year. We serve a hot meal at 5:30 p.m., followed by classes, games, and crafts that end at 7:30 p.m.
See our MINISTRIES page for more information about support groups, small groups and Bible studies.
COME AS YOU ARE
We welcome everyone. Many of us are in jeans, t-shirts and casual dress; others dress up a little.
Currently masks are optional and socially distanced seating is available.
We offer Children's Church for ages 4 to 4th grade. The kids all meet downstairs after the offering for Bible stories and activities. We offer a staffed nursery downstairs and a cry room upstairs if you need help with a little one.